The Service Ayursparsh Provide:

Skin Problem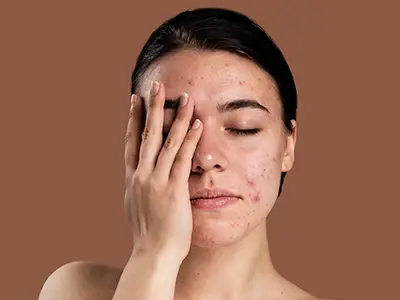 Ayurvedic Treatment for Skin Problem in Dharwad
Is red, itchy, scaly, and oozing skin bothering you and hindering your social life and you frustrated with prolonged use of strong doses of prescription for a long time and still suffer from symptoms like persistent itching, red patches with pain, and pus formation without any relief? All your problems have one solution ie Ayur Sparsh clinic. Ayur Sparsh is a leading healthcare clinic having the best skin doctor in Dharwad and provides the best and most trusted ayurvedic treatment for skin diseases. Skin problem is a common and most people are affected by several skin issues at some part of their life. Generally the term skin problem refers to a number of skin diseases like Psoriasis, Acne problem, skin inflammation, Skin darkening (Tan), pimples, Marks on the skin, etc. Allergic dermatitis urticaria, Hives, Eczema, Hyperpigmentation, etc. Ayur Sparsh offers customized ayurvedic solutions from top skin specialist doctor in Dharwad to cure skin problems using herbal medicines and treatments. As the word skin problem is used for a number of skin diseases, it is very important to diagnose the cause of your skin issue before starting the treatment. Starting treatment for skin disease at Ayursparsh is very easy. The treatment can start after the initial consultation with skin specialist in Dharwad. The doctor first analyses the cause, nature, and maturity of your skin disease and prescribes effective treatment for skin rashes. At our Ayursparsh treatment modalities for skin, the problem deals with external therapies to the detoxification panchakarma therapies. External therapies by skin specialists in Dharwad at Ayur Sparsh include face massage and face packs (Herbs) which are customized to individual nature. Panchakarma treatments may involve purgation ( virechana ), Emesis therapy (Vamana), and Nasya (Nasal therapy). etc. In some skin problems stress is also culprit in aggravating the condition of skin problems. so, stress management treatments are also done such as Shirodhara, Shiro Basti, etc. For acne, Pimples, Hyperpigmentation, etc. Ayursparsh gives personalized or customized facewash, Face packs, Creams, Serums, etc. Also, provide diet advice for skin problems. Consult with the famous skin specialist in Dharwad at Ayur Sparsh clinic for more information.
What Makes Ayursparsh
Services Unique?
At The Ayursparsh Services Clinic we offer the most advanced and
effective bespoke treatment packages to suit your needs
Need some advice from our experts?
Request a Call Back Today Now!
We will make a single attempt to contact you from a withheld number, usually within 24 hours of your request.